The Wibbly-Wobbly Timey-Wimey Watchlist: "Luther"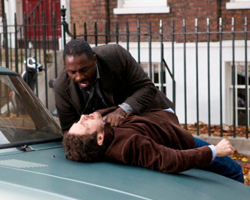 Mix the detached genius of Sherlock Holmes with the storytelling style of Columbo, throw in some dark psychological drama and moral conundrums, and what do you get?
That would be Luther, a new six-episode crime drama starting this week on BBC One.  Idris Elba (best known for his role as Stringer Bell in The Wire) stars as the title character, a DCI in London's Serious Crimes Unit.  John Luther is brilliant, dedicated, and downright dangerous — his fixation on his cases gets the job done, but also led to a mental breakdown after attempting to hunt down a child serial killer.  As the series opens, we see him trying to pull together the remains of both his career and his broken marriage upon returning to his job with the SCU.
The ensemble features a variety of familiar names.  Ruth Wilson of the BBC's celebrated adaptation of Jane Eyre plays Alice, a young astrophysicist who challenges not only Luther's powers of deduction, but also his core beliefs.  Occupation and Dead Set star Warren Brown appears as Justin Ripley, a young detective who has vied specifically to work with Luther upon his return.  And both halves of the complicated couple will be familiar to Whovians: Zoe Luther is played by Indira Varma (the ill-fated Suzie Costello of Torchwood and the equally ill-fated Niobe of Rome), and her new man, Mark North, is played by Paul McGann ('I' of Withnail & I and the Eighth Doctor).
Spooks (aired in the US as MI-5) writer Neil Cross created the character of John Luther to provide a link between classic Holmes-ian detective stories and psychological thrillers.  That said, the inverted detective story (or "howcatchem") style of the show also harkens back to one of Cross's favorite series growing up, Columbo.  Of the similarity, Cross says:
The inverted detective story format hadn't really been revisited since Columbo ended, not that I know of anyway. So I thought it might be exciting to portray it as a kind of psychological duel between this driven, half-mad cop and the depraved criminals he hunts.

So we know who Luther has to catch. What we don't know is how on earth he's going to do it.
Luther's first challenge this week? In the line of duty, a double murder.  In his personal life … well, that's anyone's guess.
Luther airs on BBC One and BBC HD Tuesday nights at 9 PM, with repeats throughout the week.  Viewer discretion is advised as it will likely contain violence, dark subject matter, strong language, and good-looking guys beating up other good-looking guys … which actually sounds kind of hot.
Posted on May 5, 2010 at 07:40 by
Kara Dennison
·
Permalink
In:
Columns
,
Television: British and Canadian
· Tagged with:
astrophysicist
,
BBC One
,
Idris Elba
,
Indira Varma
,
Paul McGann
,
Ruth Wilson
,
Serious Crimes Unit
,
Sherlock Holmes meets Columbo
,
Warren Brown
,
who's not who