Comic Non-Sans: Sledgebunny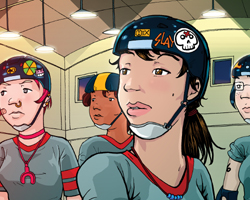 It's your classic sports anime setup: a teenage girl with little experience and lots of heart joins a team ruled by a brutal coach, and faces seemingly insurmountable odds (and a bitchy rival) to realize her hidden potential as a true star on the field.  But it's a webcomic, not an anime … and the sport?  The genteel world of ladies' roller derby.
Fresh off the seven-year run of their webcomic Fragile Gravity, the writer/artist team of Barb Fischer and Chris Impink have launched their newest project, Sledgebunny.  A love letter to both sports anime and the brutal roller derby circuit, the web-based graphic novel tells the story of Lili Lesko, a California teen who dreams of becoming the lead jammer for the Steel Breeze Jammers.  But the road isn't an easy one: derby girls can be pretty rough on "fresh meat," and almost anything goes on the track.
Barb and Chris would know, too — they're regular attendees of the DC Rollergirls' flat-track matches.
On 24 April, I decided to join the two on one of their research trips: the Spring Breaks roller derby double-header in Richmond, VA.  Armed with a camera, a program guide, and a bucket of take-out tater tots, we took to the aptly-named track-side "suicide  seats" to observe.  As we watched the DC all-star team battle Poe's Punishers, Chris explained the rules to me: both teams form one pack, and each team's jammer (like Lili) starts at the back a few seconds behind.  Jammers have to be both agile and aggressive, as points are scored by passing the pack and lapping it at least a second time.  The lead jammer gets a point for each opposing team member she passes … provided the other team doesn't take her out first.
During the match, Barb took hundreds of pictures (and that's not even counting the blurry ones), capturing everything from pack formation to cool uniform variants on the girls as they sped by.  But, as they explained to me, they take home far more than reference photos.  The two also observe the quirks and traditions of the derby circuit, such as bizarre halftime shows — it was a local hula hoop team that night.  Lili has yet to make it to a match, but all these aspects of the sport will make it in as the comic progresses.
And it's not just objective observation.  The atmosphere inspires a level of immersive creativity one might not likely get over lunch or at the computer.  As Guantanamo Babe slung Sookie Slaughterhouse to the front of the pack with a fine display of one-handed centrifugal force, Barb and Chris turned to each other: "That has to make it in at some point."  Once Lili Lesko — the titular Sledgebunny — hits the track, you can bet the art will be kinetic, fast-paced, and (of course) super-brutal.
"Sledgebunny" currently updates on an irregular basis, usually at least one new page a week, with a tighter update schedule expected as time goes on.  Start reading now at www.sledgebunny.com — and get a taste of the world of roller derby at the official sites for the DC  Rollergirls and another nearby team, the Charm City Roller Girls.