Kara's Link of the Day: The Adventures of Jet Bike Steve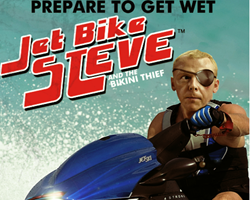 Did Simon Pegg know what he was starting when he made this idle tweet in March?
I'm gonna write a film about jet bikes. I like them, they go fast on the sea. I play the main character, Jet Bike Steve. That's all so far.
And the story spun out from there.  Before long, the intertron was buzzing with tales of Steve, his jet bike the Barack-uda, and his best friend Thor Gundersendunsen (played, naturally, by Nick Frost).  And like all good fandoms, it soon spawned a variety of impostors, leading Pegg to set up Steve's official Twitter account, @realJBS.
In Pegg's words:
JBS is not a cop. I've done that.  He's a pirate but a good pirate. He goes round f***ing up the yachts of fat cat health insurance execs.
If you would like to read the continued adventures of Jet Bike Steve, check out his website, his (unauthorized) Facebook fan page, his Twitter, and/or the Twitter hashtags #JBS and #JetBikeSteve.  Now, let's go destroy some fat cat yachts.
From the comments: Reader "chris" pointed out to me that there is, in fact, a Jet Bike Steve Flash game!  Jump yachts, collect bikinis … it's that simple.